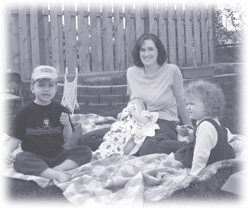 My name is Karen Summers, and I live in Portland, Oregon, with my husband and kiddos. I started decorating cakes in 1994 when I took a cake decorating class at Ricks College (now BYU Idaho) that was required for my major. I was surprised at how challenging it was! I was able to teach myself enough after that class to make my sister's wedding cake the following summer. (she was brave to let me do it! Thanks Kristie!) I think that cake took me at least 30 hours to make, but I was determined to practice and get better so that they wouldn't take me quite so long in the future!

Now all these years later the cakes don't usually take me quite that long (although some still do!). I've had the opportunity to work for a couple of years in a busy bakery as the head decorator and gained lots of experience there that I couldn't have learned on my own. I'm grateful for that experience, and even more grateful that I'm not doing that volume of cakes anymore!

I'm currently taking a break from doing cakes professionally. My kids are all so little and the cakes are far too tempting for their little fingers and mouths! I'm sure I will get back into it full time someday in the future, and in the meantime I am determined to keep up my skills by doing cakes for my family.

My purpose in keeping this site up is for other decorators to get ideas and tips and recipes. I hope you are able to find some useful information. Please feel free to email me with questions on how any of the cakes were done. I'm happy to help. Unfortunately the email spam is so out of control that I can't put a direct link to my email anymore. You'll have to type it in yourself. It's karenATmsummersDOTcom. Just substitute the correct symbols for AT and DOT.

Happy decorating!


---
Email: karenATmsummersDOTcom